Welcome to Cesar Chavez Middle school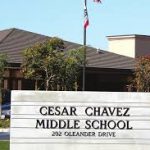 the home of the Cougars!
Our Mission Statement here at César Chávez Middle School is to provide a safe, positive learning environment, which promotes respect, integrity, and excellence.
Courage
Ownership
Understanding
Global Awareness
Advancement via Individual Determination
Responsibility
Safe learning environment
Contact us today!
We are constantly making changes and updates to our pages to make them as interesting and useful for our students and parents as possible. If you have an idea for something we can add or a comment about something that's already here, click on the button to the right to contact us today!